Dublin Core
Description
All individuals, companies and, in general, all organisations are continuously capturing data, many of which are of no significance to them at all. However, other data are available that would afford them a better understanding of their own environment and of themselves. These data – what we know as information – enable them to make more accurate decisions. For this reason, the right amount of information at the right time is a key factor for every organisation.
Creator
Rafael Lapiedra Alcami
Carlos Devece Caranana
Source
http://repositori.uji.es/xmlui/bitstream/handle/10234/46625/s63.pdf
Publisher
Universitat Jaume I
Contributor
Rahmah Agustira
Type
Files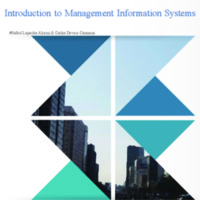 Collection
Citation
Rafael Lapiedra Alcami and Carlos Devece Caranana, "Introduction to Management Information Systems,"
Open Educational Resource (OER)
, accessed October 2, 2023,
http://oer.uinsyahada.ac.id/items/show/165
.
Document Viewer