Dublin Core
Subject
Description
Accounting is often called the language of business because it uses a unique vocabulary to communicate information to decision makers. In this chapter, we will discuss what financial accounting is and briefly introduce how financial information is communicated through financial statements. Then we will study how financial transactions are analyzed and reported on financial statements. Accounting is the process of identifying, measuring, recording, and communicating an organization's economic activities to users. Users
need information for decision making. Internal users of accounting information work for the organization and are responsible for planning, organizing, and operating the entity. The area of accounting known as managerial accounting serves the decision‐making needs of internal
users.
Source
https://open.umn.edu
Publisher
Athabasca University Press
Type
Files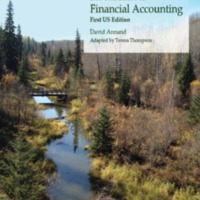 Collection
Citation
David Annand, "Introduction to Financial Accounting - First US Edition,"
Open Educational Resource (OER)
, accessed October 2, 2023,
http://oer.uinsyahada.ac.id/items/show/2223
.
Document Viewer