Dublin Core
Subject
Description
Body Physics was designed to meet the objectives of a
one-term high school or freshman level course in
physical science, typically designed to provide nonscience majors and undeclared students with exposure
to the most basic principles in physics while fulfilling a
science-with-lab core requirement. The content level is
aimed at students taking their first college science course,
whether or not they are planning to major in science.
However, with minor supplementation by other
resources, such as OpenStax College Physics, this
textbook could easily be used as the primary resource
in 200-level introductory courses.
Source
https://open.umn.edu
Publisher
Open Oregon Educational Resources
Type
Files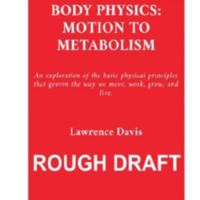 Collection
Citation
LAWRENCE DAVIS, "Body Physics: Motion to Metabolism,"
Open Educational Resource (OER)
, accessed June 7, 2023,
http://oer.uinsyahada.ac.id/items/show/2255
.
Document Viewer