Dublin Core
Subject
Description
This book is written for anybody who is curious about nature and motion. Curiosity about how people, animals, things, images and empty space move leads to many adven- tures. This volume presents the best of them in the domains of relativity and cosmology. In the study of motion – physics – special and general relativity form two important building blocks. Special relativity is the exploration of the energy speed limit c. General relativity is the exploration of the force limit c4/4G. The text shows that in both domains, all equations follow from these two limit values.
Creator
Christoph Schiller
Source
http://www.motionmountain.net/motionmountain-volume2.pdf
Publisher
Motion Mountain
Type
Files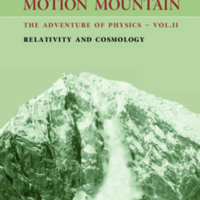 Collection
Citation
Christoph Schiller, "The Adventure of Physics - Vol. II: Relativity,"
Open Educational Resource (OER)
, accessed June 7, 2023,
http://oer.uinsyahada.ac.id/items/show/2261
.
Document Viewer