Dublin Core
Subject
Description
The purpose of creating this custom lab manual for BioSci 100 was to provide our students with a high quality, low cost learning resource. This project would not have
been possible without the dedication and commitment of the faculty and staff in the Department of Biological Sciences and the Office of Distance and Accelerated Learning at College of the Canyons. I am especially grateful to the following individuals for their contributions to the development of the original lab activities and the lab manual chapters: Kelly Burke, Janet
Cetrone, Jeannie Chari, Amy Foote, James Glapa- Grossklag, Miriam Golbert, Elizabeth Hernandez, Kim Jesu, Jenna King, Jenny Leadbetter, John Makevich, Patricia Medina, Carri Musser, Gregory Nishiyama, Patricia Palavecino, Christopher Shane Ramey, Kathy Sloan and Jim Wolf.
Creator
Dilek Sanver-Wang
Source
https://www.canyons.edu/Offices/DistanceLearning/OER/Documents/Bio100_Lab_Manual_version4.pdf
Publisher
https://www.canyons.edu
Type
Files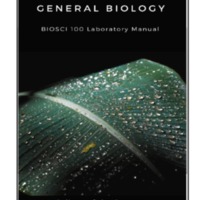 Collection
Citation
Dilek Sanver-Wang, "General Biology : Bisoci 100 manual Laboratory,"
Open Educational Resource (OER)
, accessed June 7, 2023,
http://oer.uinsyahada.ac.id/items/show/2279
.
Document Viewer