Dublin Core
Title
Subject
Description
Have you ever wondered whether the violence you see on television affects your behavior? Are you
more likely to behave aggressively in real life after watching people behave violently in dramatic
situations on the screen? Or, could seeing fictional violence actually get aggression out of your system,
causing you to be more peaceful? How are children influenced by the media they are exposed to? A

psychologist interested in the relationship between behavior and exposure to violent images might ask
these very questions.
Source
https://www.oercommons.org
Publisher
DELTA COLLEGE ELEARNING OFFICE
Type
Files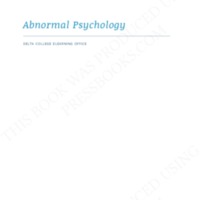 Collection
Citation
Susan Harvey, "Abnormal Psychology,"
Open Educational Resource (OER)
, accessed September 27, 2023,
http://oer.uinsyahada.ac.id/items/show/2315
.
Document Viewer