Dublin Core
Subject
Description
What is it about watching movies that makes it one of our favorite pastimes? Is it the star of the movie? Is it the hype about the movie? Is it because it is an action movie or thriller? Do you like comedies so you can laugh? Most people do. Genesee Community College students made the following comments about the joy of watching
comedy movies. "(I like) being able to watch a movie and relieving any sadness and negativity (in me) by laughing and realizing things are not so bad." "I enjoy a movie because it takes me away from my problems in my life for a short period of time." "I can escape life a little bit. I can just laugh and not think about work or school or any
other stresses in life." "I like to watch (a) comedy on a sad day because I can smile and laugh about it later." "I like comedy movies because I love to laugh. Most comedies deal with real life things, which make me enjoy watching them." Movies offer much more. Do you like suspense in a movie? How much of a movie do you remember two weeks after seeing it? Have you ever wanted to
keep your adrenalin up after watching a suspenseful movie or keep your euphoric mood up after
watching a comedy?

Source
https://textbooks.opensuny.org/tag/movie-production/
Publisher
Open SUNY Textbooks
Type
Files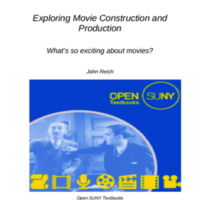 Collection
Citation
John Reich, "Exploring Movie Construction & Production: What's so exciting about movies,"
Open Educational Resource (OER)
, accessed October 4, 2023,
http://oer.uinsyahada.ac.id/items/show/2323
.
Document Viewer