Dublin Core
Subject
Description
The founders of American sociology a century or more ago in cities like Atlanta and Chicago wanted to reduce social inequality, to improve the lives of people of color,
and more generally to find solutions to the most vexing social problems of their times. A former president of the Society for the Study of Social Problems, A. Javier
Treviño, has used the term service sociology to characterize their vision of their new discipline. This book is grounded in this vision by offering a sociological
understanding of today's social problems and of possible solutions to these problems. As this book's subtitle, Continuity and Change, implies, social problems are persistent, but they have also improved in the past and can be improved in the present and future, provided that our nation has the wisdom and will to address them. It is easy to read a social problems textbook and come away feeling frustrated by the enormity of the many social problems facing us today.
Source
https://2012books.lardbucket.org/pdfs/a-primer-on-social-problems.
Type
Files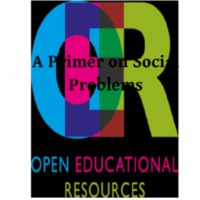 Collection
Citation
Steven E. Barkan, "A Primer on Social Problems . v. 1.0,"
Open Educational Resource (OER)
, accessed October 2, 2023,
http://oer.uinsyahada.ac.id/items/show/2335
.
Document Viewer