Dublin Core
Description
Developmental Psychology, also known as Human Development or Lifespan Development, is
the scientific study of ways in which people change, as well as stay the same, from conception to
death. You will no doubt discover in the course of studying that the field examines change across
a broad range of topics. These include physical and other psychophysiological processes,
cognition, language, and psychosocial development, including the impact of family and peers. Originally concerned with infants and children, the field has expanded to include adolescence and more recently, aging and the entire life span. Previously, the message was once you are 25, your development is
essentially completed. Our academic knowledge of the lifespan has changed and although there is still less research on adulthood than on childhood, adulthood is gaining increasing attention. This is
particularly true now that the large cohort known as the baby boomers are beginning to enter late adulthood.
Creator
Martha Lally, Suzanne Valentine-French
Source
https://open.umn.edu/opentextbooks/textbooks/lifespan-development-a-psychological-perspective
Publisher
https://open.umn.edu/opentextbooks
Type
Files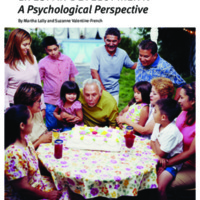 Collection
Citation
Martha Lally, Suzanne Valentine-French, "LIFESPAN DEVELOPMENT: A Psychological Perspective,"
Open Educational Resource (OER)
, accessed October 2, 2023,
http://oer.uinsyahada.ac.id/items/show/2383
.
Document Viewer