Dublin Core
Description
How closely can or should writing centers and writing classrooms collaborate? Beyond Dichotomy explores how research on peer tutoring one-to-one and in small groups can inform our work with students in writing centers and other tutoring programs, as well as in writing courses and classrooms. These multi-method (including rhetorical and discourse analyses and ethnographic and case-study) investigations center on several course-based tutoring (CBT) partnerships at two universities. Rather than practice separately in the center or in the classroom, rather than seeing teacher here and tutor there and student over there, CBT asks all participants in the dynamic drama of teaching and learning to consider the many possible means of connecting synergistically.
Source
https://open.umn.edu/opentextbooks/textbooks/beyond-dichotomy-synergizing-writing-center-and-classroom-pedagogies
Publisher
WAC Clearinghouse
Type
Files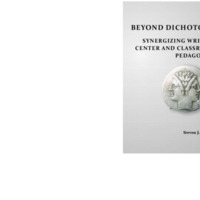 Collection
Citation
Steven Corbett, , "Beyond Dichotomy: Synergizing Writing Center and Classroom Pedagogies,"
Open Educational Resource (OER)
, accessed October 2, 2023,
http://oer.uinsyahada.ac.id/items/show/2437
.
Document Viewer