Dublin Core
Subject
Description
A grasp of the logic and practice of science is essential to understand the rest of the world around us. To that end, the CMB3e iText (like earlier editions) remains focused on experimental support for what we know about cell and molecular biology, and on showing students the relationship of cell structure and function. Rather than trying to be a comprehensive reference book, CMB3e selectively details investigative questions, methods and experiments that lead to our understanding of cell biology. This focus is nowhere more obvious than in the chapter learning objectives and in external links to supplementary material.
Source
https://dc.uwm.edu/cgi/viewcontent.cgi?article=1009&context=biosci_facbooks_bergtrom
Type
Files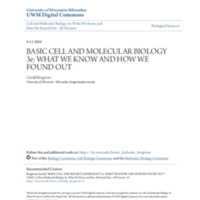 Collection
Citation
Gerald Bergtrom, "BASIC CELL AND MOLECULAR BIOLOGY 3e: WHAT WE KNOW AND HOW WE FOUND OUT,"
Open Educational Resource (OER)
, accessed June 7, 2023,
http://oer.uinsyahada.ac.id/items/show/2449
.
Document Viewer