Dublin Core
Subject
Description
Mathematical definitions should be perfectly precise because they do not describe something which is observed out there in the world, since such descriptive definitions might have fuzzy edges. In biology, for example, whether a virus is considered "alive" could be
subject to some debate: viruses have some of the characteristics of life, but not others. This makes a mathematician nervous.
Source
https://www.poritz.net/jonathan/share/ldlos.pdf
Type
Files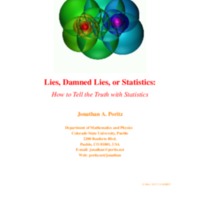 Collection
Citation
Jonathan Poritz, "Lies, Damned Lies, or Statistics: How to Tell the Truth with Statistics,"
Open Educational Resource (OER)
, accessed June 7, 2023,
http://oer.uinsyahada.ac.id/items/show/2471
.
Document Viewer