Dublin Core
Description
This algebra video tutorial shows you how to solve linear equations that contain fractions and variables on both sides of the equation. This video contains plenty of examples and practice problems for you to work on.

Source
https://www.youtube.com/watch?v=gSWTqZrC7Ac&list=PL80tY26pihXCFSEM2azZRGlJJDVrzcVMn
Publisher
The Organic Chemistry Tutor
published via YouTube.com
Date
2016-08-16T20:34:01.000Z
Type
Moving Image Item Type Metadata
Imported Thumbnail
https://i.ytimg.com/vi/gSWTqZrC7Ac/default.jpg
Files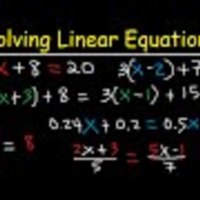 Collection
Citation
-, "Solving Linear Equations - Basic Algebra Shortcut Tricks!,"
Open Educational Resource (OER)
, accessed June 7, 2023,
http://oer.uinsyahada.ac.id/items/show/2493
.