Dublin Core
Subject
Description
This book introduces criminal procedure law in the United States, with a focus on the "investigation" stage of the criminal justice system. Specifically, the book focuses on legal constraints placed upon police and prosecutors, constraints largely derived from Supreme Court interpretations of the Fourth, Fifth, and Sixth Amendments to the Constitution. Major topics include searches and seizures, warrants and when they are required, interrogations, witness identifications of suspects, and the right to counsel during various stages of investigation and prosecution.
At the end of the semester, students should have a solid foundation in the "black-letter law" of criminal procedure. This material is tested on the bar examination, and it is the sort of information that friends and family will expect lawyers to know, even lawyers who never practice criminal law.
Creator
Ben L. Trachtenberg, Anne M. Alexander
Source
https://scholarship.law.missouri.edu/cgi/viewcontent.cgi?article=1001&context=oer
Publisher
University of Missouri School of Law
Type
Files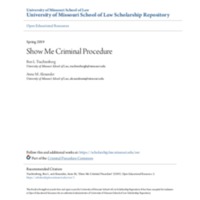 Collection
Citation
Ben L. Trachtenberg, Anne M. Alexander, "Show Me Criminal Procedure,"
Open Educational Resource (OER)
, accessed October 4, 2023,
http://oer.uinsyahada.ac.id/items/show/2553
.
Document Viewer