Dublin Core
Description
We discuss probability and do some basic examples to refresh our memory on practice problems involving probability. Next video we focus on expectation values/ mean and the second moment of distribution.
Source
http://youtu.be/Ky2DfnDbV-k
Publisher
SciencewithGurni !
published via YouTube.com
Date
2017-09-01T03:04:12.000Z
Rights
Moving Image Item Type Metadata
Imported Thumbnail
https://i.ytimg.com/vi/Ky2DfnDbV-k/default.jpg
Files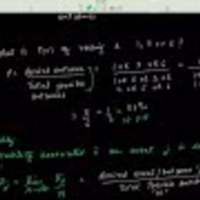 Collection
Citation
"Probability and Statistics,"
Open Educational Resource (OER)
, accessed October 2, 2023,
http://oer.uinsyahada.ac.id/items/show/257
.