Dublin Core
Subject
Description
This book deals with the physical sciences - physics and chemistry. All the sciences are based in the use of
experiment and testing to understand the world around us better. The scientific method requires us to constantly re-examine our understanding, by testing new evidence with our current theories and making changes to those theories if the evidence does not
meet the test. The scientific method therefore is the powerful tool you will use throughout the physical sciences.
Source
https://drive.google.com/file/d/0B6pcGxi_-Y9PSlR5RWxfalQtNnc/view
Type
Files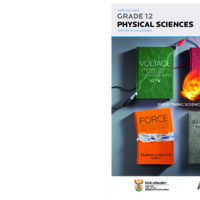 Collection
Citation
VOLUNTEERS, "GRADE 12 PHYSICAL SCIENCES. VERSION 1 CAPS,"
Open Educational Resource (OER)
, accessed June 7, 2023,
http://oer.uinsyahada.ac.id/items/show/2575
.
Document Viewer