Dublin Core
Subject
Description
This is the second lecture in the Bioinformatics of Genomic Medicine 2017 workshop hosted by the Canadian Bioinformatics Workshops. This lecture is by Mathieu Bourgey from the Canadian Centre for Computational Genomics. For tutorials and lecture slides for this workshop, please visit bioinformaticsdotca.github.io.


Source
http://youtu.be/Zp0PQ44T4R8
Publisher
Bioinformatics DotCa
published via YouTube.com
Rights
Type
Moving Image Item Type Metadata
Imported Thumbnail
https://i.ytimg.com/vi/Zp0PQ44T4R8/default.jpg
Files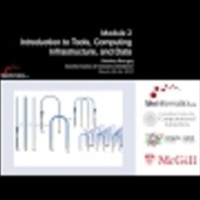 Citation
Mathieu Bourgey , "Introduction to Tools, Computing Infrastructure, and Data,"
Open Educational Resource (OER)
, accessed October 2, 2023,
http://oer.uinsyahada.ac.id/items/show/2591
.