Dublin Core
Subject
Description
Teaching the strategic management course can be a challenge for many professors. In most business schools, strategic management is a "capstone" course that requires students to draw on insights from various functional courses they have completed (such as marketing, finance, and accounting) in order to understand how top executives make the strategic decisions that drive whether organizations succeed or fail. Although students have taken these functional courses, many students have very little experience with major organizational choices.
Source
https://open.lib.umn.edu/strategicmanagement/
Publisher
University of Minnesota
Type
Files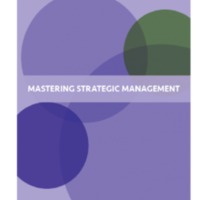 Collection
Citation
- , "Mastering Strategic Management,"
Open Educational Resource (OER)
, accessed September 25, 2023,
http://oer.uinsyahada.ac.id/items/show/2659
.
Document Viewer