Dublin Core
Subject
Description
In dredging, the hydraulic transport of solids is one of the most important processes. Since the 50's many researchers have tried to create a physical mathematical model in order to predict the head losses in slurry transport. One can think of the models of Durand&Condolios(1952)& Durand (1953), Worster& Denny(1955), Newitt et al.(1955), Gibert (1960), Fuhrboter (1961), Jufin & Lopatin (1966), Zandi & Govatos(1967)&Zandi(1971), Turian & Yuan (1977), Doronet al. (1987)& Doron & Barnea (1993), Wilsonet al. (1992)andMatousek(1997). Some models are based on phenomenological relations and thus result in semi empirical relations, other tried to create models based on physics, like the two and three layer models. It is however the question whether slurry transport can be modeledthis way at all. Observations in our laboratory show a process which is often non-stationary with respect to time and space. Different physics occur depending on the line speed, particle diameter, concentration and pipe diameter.
Source
https://textbooks.open.tudelft.nl/index.php/textbooks/catalog/view/17/34/110-1
Type
Files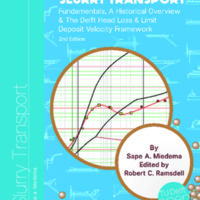 Collection
Citation
Sape A. Miedema, "Slurry Transport: Fundamentals, A Historical Overview & The Delft Head Loss & Limit Deposit Velocity Framework 2nd Edition,"
Open Educational Resource (OER)
, accessed June 7, 2023,
http://oer.uinsyahada.ac.id/items/show/2679
.
Document Viewer