Dublin Core
Title
Subject
Description
BI101 Course Description: Adaptations of BI101 vary in theme. BI101A is a survey course that
introduces the discipline of cellular biology, exploring topics including the cellular basis of life, cell
structure and function and the metabolic processes that affect cells. BI101 introduces students to
biology as a scientific discipline and engages students in the process of scientific discovery. All BI101
courses are equivalent; only one can be used to fulfill degree requirements. BI101, BI102 and BI103
are non-sequential and can be taken in any order. Students considering majors in science or preprofessional health occupations are advised to eventually take BI211, B1212 and BI213.
Creator
Bartee, Lisa and Anderson, Christine
Source
https://openoregon.pressbooks.pub/mhccbiology101/
Type
Files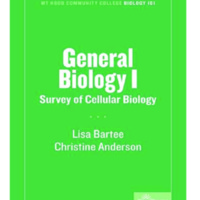 Collection
Citation
Bartee, Lisa and Anderson, Christine, "General Biology I,"
Open Educational Resource (OER)
, accessed June 7, 2023,
http://oer.uinsyahada.ac.id/items/show/2689
.
Document Viewer