Dublin Core
Subject
Description
Economics is concerned with the well-being of all people, including those with jobs and those without jobs, as well as those with high incomes and those with low incomes. Economics acknowledges that production of useful goods and services can create problems of environmental pollution. It explores the question of how investing in education helps to develop workers' skills. It probes questions like how to tell when big businesses or big labor unions are operating in a way that benefits society as a whole and when they are operating in a way that benefits their owners or members at the expense of others. It looks at how government spending, taxes, and regulations affect decisions about production and consumption. It should be clear by now that economics covers a lot of ground. That ground can be divided into two parts: Microeconomics focuses on the actions of individual agents within the economy, like households, workers, and businesses; Macroeconomics looks at the economy as a whole. It focuses on broad issues such as growth of production, the number of unemployed people, the inflationary increase in prices, government deficits, and levels of exports and imports. Microeconomics and macroeconomics are not separate subjects, but rather complementary perspectives on the overall subject of the economy.
Creator
Steven A. Greenlaw, David Shapiro
Source
https://openstax.org/details/books/principles-microeconomics-ap-courses-2e
Type
Files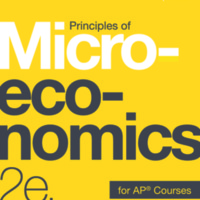 Collection
Citation
Steven A. Greenlaw, David Shapiro, "Principles of Microeconomics for AP® Courses 2e ,"
Open Educational Resource (OER)
, accessed October 2, 2023,
http://oer.uinsyahada.ac.id/items/show/2707
.
Document Viewer