Dublin Core
Subject
Description
Behaviorism is primarily concerned with observable and measurable aspects of human behavior. In defining behavior, behaviorist learning theories emphasize changes in behavior that result from stimulus-response associations made by the
learner. John B. Watson (1878-1958) and B. F. Skinner (1904-1990) are the two principal originators of behaviorist approaches to learning. Watson believed that human behavior resulted from specific stimuli that elicited certain responses. Watson's basic premise was that conclusions about human development should be based on observation of overt behavior
rather than speculation about subconscious motives or latent cognitive processes (Shaffer, 2000). Watson's view of learning was based in part on the studies of Ivan Pavlov (1849-1936). Pavlov was well known for his research on a learning process
called classical conditioning.
Creator
Molly Y. Zhou, David Brown
Source
https://oer.galileo.usg.edu/cgi/viewcontent.cgi?article=1000&context=education-textbooks
Publisher
GALILEO, University System of Georgia
Type
Files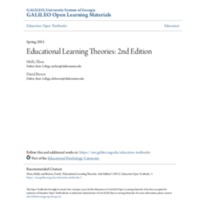 Collection
Citation
Molly Y. Zhou, David Brown, "Educational Learning Theories: 2nd Edition,"
Open Educational Resource (OER)
, accessed October 4, 2023,
http://oer.uinsyahada.ac.id/items/show/2711
.
Document Viewer