Dublin Core
Subject
Description
This book is based on the collective knowledge of the GEO BON network of volunteers, working towards the establishment of a global, sustainable observation
system for monitoring changes in biodiversity. As such, a great number of colleagues have contributed their time and energy towards the production of this handbook and huge thanks go to all of them. Chapter 6 acknowledges information obtained from the World Register of
Marine Species (WoRMS), the European Ocean Biogeographic Information System (EurOBIS) and Marine Regions, which are supported by data and infrastructure
provided by VLIZ as part of the Flemish contribution to LifeWatch, and is funded by the Hercules Foundation. Also thanks to Chap. 6 team: Jan Mees, Francisco Hernandez and Pieter Provoost (IOC) for being very helpful in accessing data from OBIS.
Publisher
Springer Nature

Contributor
Cut Rita Zahara
Type
Files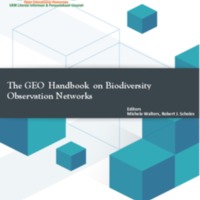 Collection
Citation
"The GEO Handbook on Biodiversity Observation Networks,"
Open Educational Resource (OER)
, accessed September 27, 2023,
http://oer.uinsyahada.ac.id/items/show/314
.
Document Viewer