Dublin Core
Subject
Description
The basic objective in the operation of drinking water treatment plants is to produce a drinking water that is safe and aesthetically pleasing at a reasonable cost with respect to capital as well as operation and maintenance.
From a public health perspective, production of a safe drinking water is one that is free of harmful microorganisms and toxic materials, and this object is the first priority. It is also important to produce a high-quality, water that appeals to the consumer. Generally, the water
must be clear, free of turbidity, colorless, and free of objectionable tastes and odors. Consumers also show a preference for water supplies that do not stain plumbing fixtures and clothes, do not corrode plumbing fixtures and piping, and do not leave scale deposits or spot glassware.

Source
https://www.canyons.edu/Offices/DistanceLearning/Documents/Open%20Textbooks/Water052_Version1.pdf
Publisher
College of the Canyons Fall 2018
Type
Files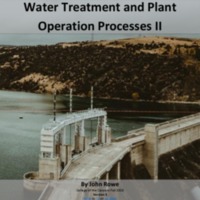 Collection
Citation
John Rowe, "Water Treatment and Plant Operation Processes II ,"
Open Educational Resource (OER)
, accessed October 2, 2023,
http://oer.uinsyahada.ac.id/items/show/2303
.
Document Viewer