Dublin Core
Title
Subject
Description
Statistics as a subject focuses on making stages 2-4 objective, rigorous, and efficient. That is, statistics has three primary components: How best can we collect data? How should it be analyzed? And what can we infer from the analysis? The topics scientists investigate are as diverse as the questions they ask. However, many of these investigations can be addressed with a small number of data collection techniques, analytic tools, and fundamental concepts in statistical inference. This chapter provides a glimpse into these and other themes we will encounter throughout the rest of the book. We introduce the basic principles of each branch and learn some tools along the way. We will encounter applications from other fields, some of which are not typically associated with science but nonetheless can benefit from statistical study.

Creator
David Diez and Mine Cetinkaya-Rundel
Source
https://leanpub.com/openintro-statistics
Type
Files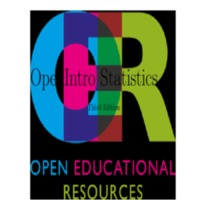 Citation
David Diez and Mine Cetinkaya-Rundel, "OpenIntro Statistics,"
Open Educational Resource (OER)
, accessed October 4, 2023,
http://oer.uinsyahada.ac.id/items/show/2525
.
Document Viewer