Dublin Core
Subject
Description
Western Civilization: A Concise History​ is an Open Educational Resource textbook covering the history of Western Civilization from approximately 8,000 BCE to 2017 CE. It is available in three volumes covering the following time periods and topics: Volume 1: from the origins of civilization in Mesopotamia c. 8,000 BCE through the early Middle Ages in Europe c. 1,000 CE. Volume 1 covers topics including Mesopotamia,Egypt, Persia, Greece, Rome, the Islamic caliphates, and the early European Middle Ages.
Creator
Christopher Brooks
Source
https://drive.google.com/file/d/1K-q0OeTZUB3mIJTn-pdQTE-AirQux7Dy/view
Publisher
Portland Community College
Type
Files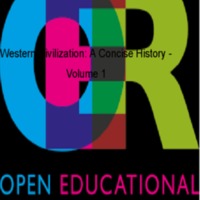 Collection
Citation
Christopher Brooks, "Western Civilization: A Concise History - Volume 1,"
Open Educational Resource (OER)
, accessed September 27, 2023,
http://oer.uinsyahada.ac.id/items/show/2733
.
Document Viewer