Dublin Core
Title
Subject
Description

Climate change and globalisation are opening up the Arctic for exploitation by the world – or so we are told. But what about the views, interests and needs of the peoples who live in the region? This volume explores the opportunities and limitations in engaging with the Arctic under change, and the Arctic peoples experiencing the changes, socially and physically. With essays by both academics and Arctic peoples, integrating multiple perspectives and multiple disciplines, the book covers social, legal, political, geographical, scientific and creative questions related to Arcticness, to address the challenges faced by the Arctic as a region and specifically by local communities. As well as academic essays, the contributions to the book include personal reflections, a graphic essay, and poetry, to ensure wide and varied coverage of the Arctic experience – what the contributions all have in common is the fundamental human perspective. Topics covered in the essays include indigenous identity and livelihoods such as reindeer herding, and adapting to modern identities; a graphic essay on the experience of Arctic indigenous peoples in residential schools; the effects of climate change; energy in the Arctic; and extractive industries and their impacts on local communities. The book includes reflections on the future of Arcticness, engaging with communities to ensure meaningful representation and as a counterpoint to the primacy of environmental, national and global issues.
Source
http://oapen.org/download?type=document&docid=634773
Publisher
UCL Press, London
Type
Files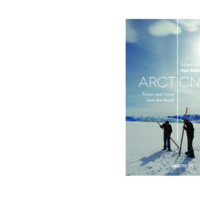 Collection
Citation
Ilan Kelman, "Arcticness,"
Open Educational Resource (OER)
, accessed October 2, 2023,
http://oer.uinsyahada.ac.id/items/show/482
.
Document Viewer