Dublin Core
Subject
Description
Arising from a scientific conference marking the 100th anniversary of her birth, this book honors the life and work of the social scientist and diplomat Ester Boserup, who blazed new trails in her interdisciplinary approach to development and sustainability. The contents are organized in three sections reflecting important focal points of Boserup's own work: Long-Term Socio-Ecological Change; Agriculture, Land Use, and Development; and Gender, Population, and Economy. The diversity of the contributions to this book highlights the continuing impact of Ester Boserup's work on scientific research today, and its likely influence on research for years to come.
Creator
Marina Fischer-Kowalski
Anette Reenberg Anke Schaffartzik
Andreas Mayer
Source
http://oapen.org/download?type=document&docid=602771
Type
Files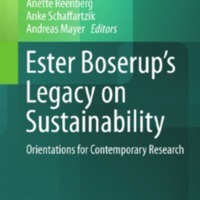 Collection
Citation
Marina Fischer-Kowalski , Anette Reenberg Anke Schaffartzik , and Andreas Mayer , "Ester Boserup's Legacy on Sustainability : Orientations for Contemporary Research,"
Open Educational Resource (OER)
, accessed October 4, 2023,
http://oer.uinsyahada.ac.id/items/show/541
.
Document Viewer