Dublin Core
Title
Subject
Description
A monosaccharide is a monomer of carbohydrates. Five monosaccharides are important in the body. Three of these are the hexose sugars, so called because they each contain six atoms of carbon. These are glucose, fructose, and galactose.
The remaining monosaccharides are the two pentose sugars, each of which contains five atoms of carbon. They are ribose and deoxyribose.
Contributor
Cut Rita Zahara
Type
Files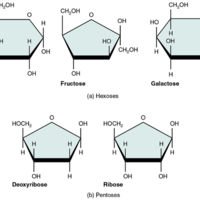 Collection
Citation
"Monosaccharides,"
Open Educational Resource (OER)
, accessed October 2, 2023,
http://oer.uinsyahada.ac.id/items/show/936
.